R. Moore homes is excited to announce the first phase of the Woods of Jennings Creek. A new way to think about living in Lindsay.
For over the last 41 years R. Moore Homes has been committed to offering hands on professional advice and service to go along with the latest in building techniques.
Breaking ground in 2016, the initial phase of this upscale development will see the construction of 58 lots. Offering a wide variety of properties ranging from 50 feet to 60 feet wide and 105 feet to 118 feet deep. This development extends from Angeline Street North to the Victoria Rail Trail (open year round) and offers views unmatched by any other development in the area.
Our layouts are designed to meet a variety of needs. Should these layouts not work for you, no problem. Our in house design team will work with you to create your dream home.
Congratulations on taking the first step to creating your new home. We can't wait to get started with you!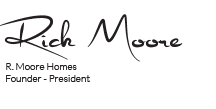 Explore Models